---
---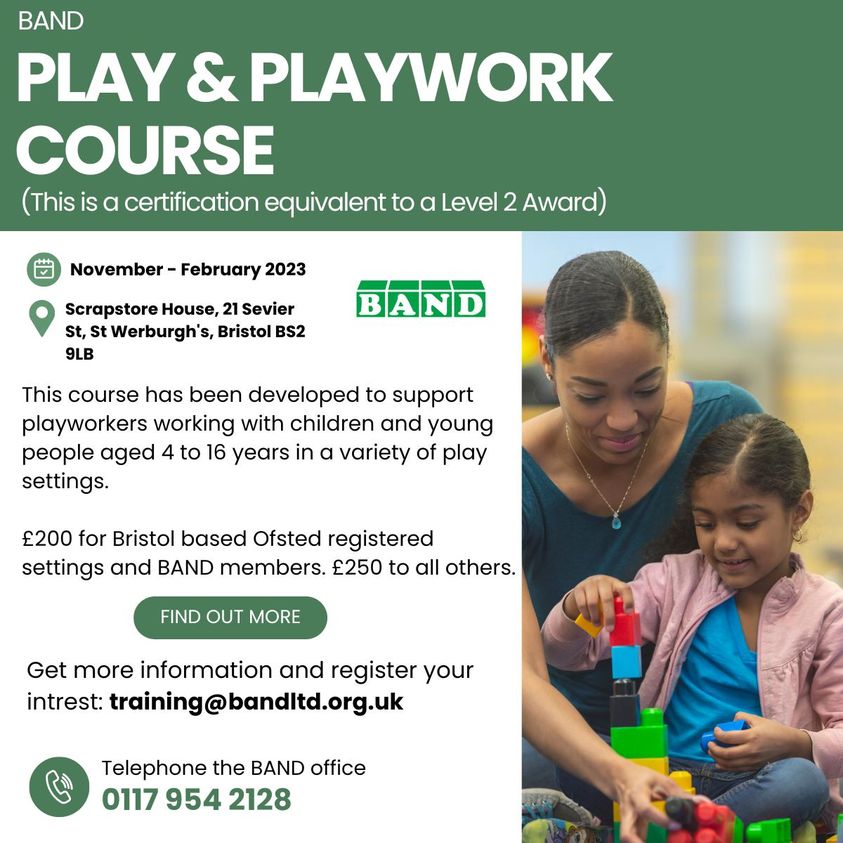 Register for our upcoming BAND Playwork Course
This course has been developed to support playworkers working with children and young people aged 4 to 16 years in a variety of play settings.
What You'll Learn:
✅ The importance of play for children and young people.
✅ Play work practice, play theory and the role of the playworker.
✅ Equality, diversity, and inclusion, including child protection and the benefits of risk versus health and safety.
This course will include an element of home study and 3 workplace tasks.
📅 Course Details: 🗓️ Start Date: 9th of November ⏰ Duration: 10 sessions 📍 Location: Scrapstore House
Thursday evenings 7:00pm-9:30pm
Cost: £200 to Bristol based Ofsted registered setting's and BAND members, £250 to all others.
Note: This is a certification equivalent to a Level 2 Award and not a qualification.
👥 Who Should Attend: 👉 You must be over 16 years and working in a play setting as either a paid member of staff or volunteer.
🌟 Course Benefits: ⭐️ Hands-on learning and practical training ⭐️Certification upon course completion
📚 Don't miss out on this exciting opportunity. Limited spots available.
🔗 Learn more and register your interest: Training@bandltd.org.uk
Posted on
---
---
---
---
---
---
---