There were representatives from France (a rolling roster of people from different organisations), Spain (or Catalonia), Turkey and Croatia. Luckily for us the main seminar was in English but even so we all had to work hard to understand what each other meant. For example, we quickly got over the hurdle of the difference in the term pre-school; we thought of the classic playgroup delivering early education to under 5's, they meant activities that happen before the school day.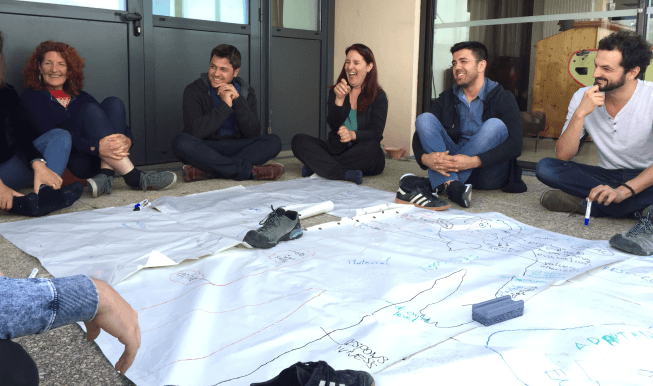 One aspect we found very interesting was that most of the organisations there introduced themselves by what they believe in: equality, democracy, wanting to change the world …not through a description of the services or activities they provide. The expression of the values seemed to make it easier for them to find partners and networks with common aims.
There was a large range of projects ranging from the well networked and state-run, to regional children's and youth projects in France, to a group of teachers from Eastern Turkey who were running summer holiday playschemes for senior school young people as volunteers for a month because if they didn't do it there would be nothing available.
We found out about and discussed the different routes to training for childcare workers, playworkers and youth leaders in France, Spain and the UK and the need for a recognised training route in Croatia and Turkey as projects develop. They were alarmed to hear that one of the effects of austerity in the UK was the removal of funding to support the recognised playworker training so reducing the number of qualified professionals for the long term. There are common challenges of getting and keeping a well trained workforce when a lot of the work is part time and low paid.
Visiting afterschool projects in Angouleme was a treat and also very familiar; child-focused, participative spaces with play opportunities that support children's ongoing development. We discovered that when the French talked about pedagogy and the pedagogical approach they were talking about a participative approach to child development where the child is actively involved in choosing what to do and learns through exploring and experimenting. We would call this a playwork approach. Also when they talk about developing citizens it means supporting children and young people to become critical thinkers and develop their own sense of identity; concepts that we are very familiar with.
When it came to exchanging training ideas, all groups came up with a range of participative activities; from a Forum Theatre where a workplace conflict was role played and then observers were invited to suggest ideas and strategies to move forward with the problem, to an activity where small groups were invited to draw the ideal "youth leader" indicating the qualities needed.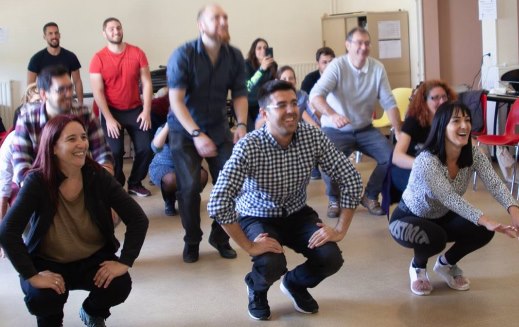 On project ideas day, there were lots of ideas on the table: Summer Eco Camp; Youth Exchange Camp on the topic of gender; Robot World Cup; youth skills accreditation projects and a new French website resource focussing on training for youth leaders. The one that caught our eye is focused on the 30th Anniversary of the UN Rights of the Child in 2019; Franca is a French partner working on a project to have an event in Bordeaux. It got us thinking that BAND could be involved, but also that we could develop a project here in Bristol involving our member groups. Watch this space!
At the end of the week, we all felt privileged to have met and spent time with such a fantastic group of people from across Europe. The knowledge and ideas we gained will have an impact on our work back in Bristol, and the memories of time spent with the group will be ones we will treasure for a long time to come.
You can find out more about Erasmus+ training programme here: