Building Relationships Across Generations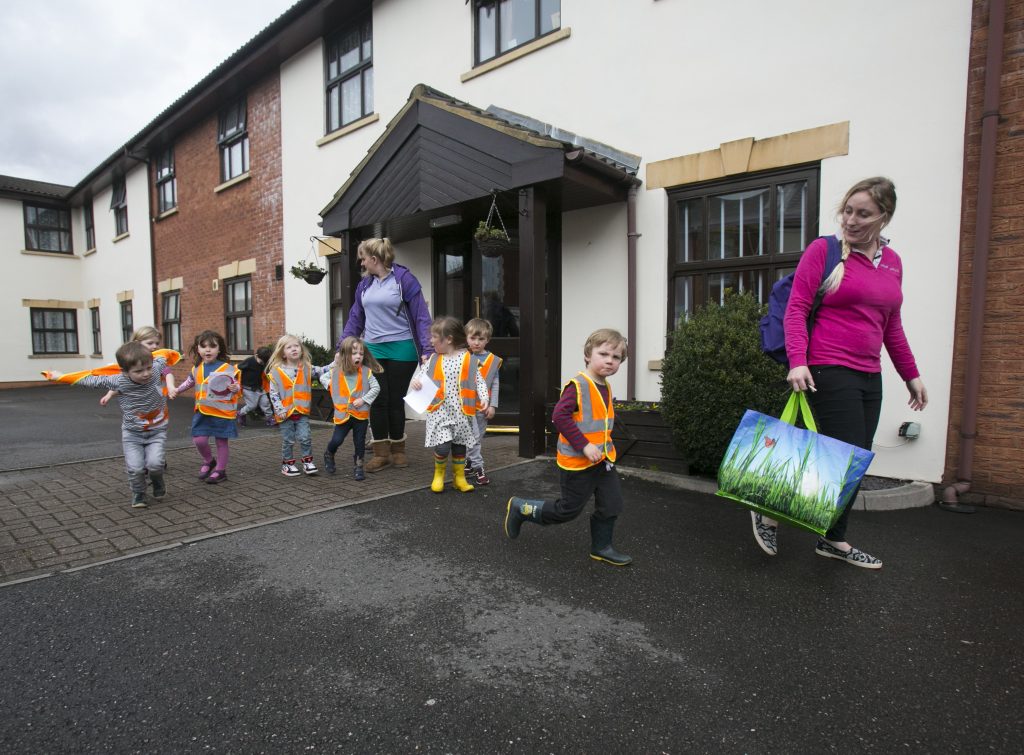 May 2017
Becket Hall Day Nursery and Osbourne Court Care Home have entered into an unusual partnership; for the last 5 months, a group of children from the nursery have been visiting the elderly residents at the care home and building relationships across the generations.
Lynsey Elliott, Manager of Becket Hall, kindly let BAND join her on one of their visits and it's clear that the model she and Osbourne Court have created would be transferable to other settings wishing to explore this area. The children and residents take care of each other and their enjoyment in  shared time was touching to observe through-out the visit. Several of the residents repeatedly expressed how much the visits meant to them, how much they enjoyed being with the children and how, for many, it was the highlight of their week. The children were naturally leaning on chairs and wheelchairs to gather round residents; saying they liked playing there, and drawing and one particular resident who is funny because he pulls funny faces!
Lynsey shared this feedback about a general visit (names have been changed) and how they set it up – if you would like to explore a similar project in your setting, Lynsey is happy to talk to you, and you can also call BAND who will be putting together some information about this area, she explains:
'Each morning our pre-school children check the bus poster to see if their name has been stuck on it, signifying if it is their turn to visit the care home. The disappointment is clear when it's not their turn, but they are quick to remind themselves they will get to go next time then as it will be their turn then.'You have to be really careful and gentle with the old people cause they can die really easily' says one pre-schooler to another, 'Oh ok' the peer replies without question. Another child adds 'yeah, and you have to talk really loudly to Jilly because only one of her ears works.'
Today we are taking a child with us to visit residents at Osbourne Court elderly Care home who has never been before, and so we are using circle time to open up a dialogue to discuss what to expect, with our regular visitors explaining the 'who's who' at the care home. The children openly talk about Olive who is blind in one eye, and can only see a little bit out of the other, 'you have to stand in front of her when you talk to her, but she has a lovely guide dog teddy' says J. Olive is 83, which the children recognise as a much bigger number than their age! She has been educating the children on her journey which included having guide dogs all her life, but now she has just a bear as there are no dogs allowed in the home.
This honest and open communication began around three visits in, when curiosity got the better of one child who had to ask why 'Maisie's and Jilly's's chairs have wheels but no one else's does?' Rather than answer in hushed tones, we said let's go and ask, so that's exactly what we did, and both women had different reasons for their wheel-chairs, with Maisie showing us that she could in fact walk, but just not all the time as it makes her very tired.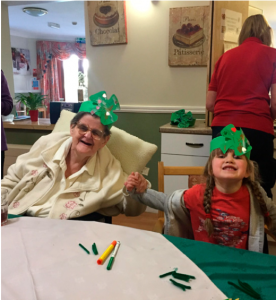 As a manager our initial challenge was finding a care home to take us, but we expect the coverage of our success will open up more care homes to this initiative. Like early years their workload and demand is high, and the press not always on their side, and so after meeting with the senior staff of the care home to discuss the purpose of our visits, and seeing that they shared our vision we knew it was the right setting for us. We began by sharing risk assessments, and once in place we were able to begin our regular visit.
Although children are always supervised by our nursery staff, all the care home staff are also enhanced DBS checked for both adults and children due to visitors that come into the care home. All the care home Staff are first aid trained, and are also trained in areas such as equality and diversity as well as being incredibly knowledge-able about the residents and any conditions they might have, which means they are able to appropriately support the visits.
On a typical day, we loosely plan a topical activity to open up the channels of dialogue between the residents and the children, which encourages working together. However more often this is a by-product of the real learning and understanding, which is opening up the children's minds to differences between each other, while giving youthful and fun visitors to the residents, who for many the children are their only visitors. Initially we took different children each week, however we found that some residents found the change confusing and so, we work on a rotation of taking familiar children, and introducing new children gradually each week. Children are always given the choice of whether they wish to go, and we have had several children who did not want to return, but the option is always given to them should they wish to give it another go. Likewise some residents don't join us each week, but we certainly have some regulars who never miss a visit.
We usually round off our visit with a familiar story, and have purchased large books which the residents can remember from their own childhoods, such as The Gingerbread Man, Jack and the Beanstalk etc, which means the residents can retell the stories from memory should one of them wish to lead the story that week.
Once established the paperwork is minimal, and reward endless. Our children have become considerate and respectful to others and are becoming aware and accepting of each other's boundaries and differences.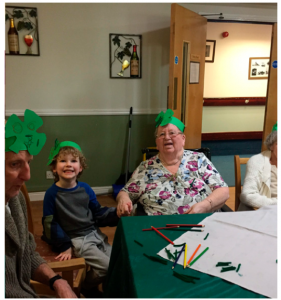 We have found that parents have become more involved, with some planning to continue the visits after the children have left for school, and many looking forward to their child joining the pre-school to begin these visits.
We now consider these visits as integral to our learning programming, encouraging development in Understanding the World as well as their Personal, and Social and Emotional development, and hope that many others will consider an initial visit to see if it would work them. For those, I would be more than happy and open to discussing the process of setting this up should any settings wish to do so."
You can watch some of our visit via Points West
www.youtube.com/watch?v=SsBP9Zh0FOw&t=4s
And The One show covered our journey here, you can view the video on the care homes public facebook page:
www.facebook.com/FourSeasonsHealthCare/videos/1228060813973565/
Read more from BAND News...