---
Fundraiser: Free Inclusive Workshops for disabled children.
---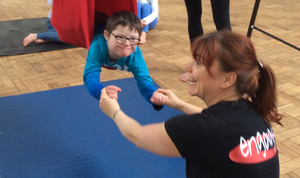 BAND are seeking funding to the amount of £2,125 to pay for 5 free children's inclusive aerial workshops to take place during the school holidays.
Full or part funding towards this amount would be gratefully received; each workshop costs £425 to run.
The workshops will be aimed at children aged between 4-13 years of age and will last 3 hours. They will be offered free to inclusive childcare settings that are supporting non-disabled and disabled children. Currently, these settings are supporting children who have Downs Syndrome, Autism, limited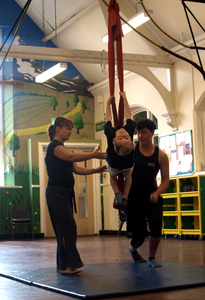 mobility, and complex health care needs including: tube feeding, use of oxygen, and epilepsy. The workshops will be scheduled on the day that most disabled children attend, we estimate that 25 children will attend each session of which, 3-4 children will be disabled. Around half the settings will be based in disadvantaged areas of Bristol.
In small groups, children will develop their skills on the static trapeze and try out the sling hammock. There will be a selection of other circus skills for children to try – for example the juggling rack. Dependent on the choices of the children, the tutor will use storytelling and drama to enhance the workshops. The children will be supported to act out part of a story using the trapeze or sling hammock. This could be individually or as part of a group.
---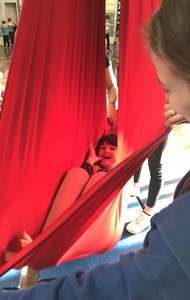 The workshops will allow disabled children to be equally involved alongside their non-disabled peers, with each individual being able to try a new experience that meets their level. These exercises can improve collaboration, team working and social skills, as well as breaking down stereo-types and stigma's about disabilities. Children can also experience a sense of accomplishment as they tackle a new experience, which in turn leads to an increase in the sense of belonging that disabled children will have in the setting. We hope that all the children will have an opportunity to try something new and develop new skills empowering them to reach their full potential.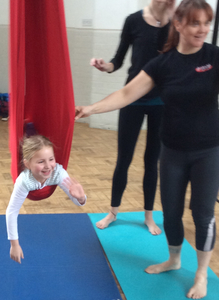 BAND have observed the workshop leader and other trainers in action and they are consistently engaged with the children in an empowering and engaging manner, focusing fully on their needs and involving all children at levels that are appropriate for them. Disabled children using the sling hammock are supported to climb into it's cocoon or raised up in it from their wheelchair, are able to use it to swing in varying ways, or to learn other aerial skills dependent on their needs and choices.
Over the past few years we have run a wide range of workshops based on the following themes: Music, Green arts, Batik making, Illustration, Circus skills, Woodwork, T-shirt printing, Drama, and Fire making. The response has been overwhelmingly positive, feedback shows that clubs found it incredibly useful and inspiring, helping to develop the skills of staff / volunteers, and supporting them in developing new projects for their groups. Feedback from participants showed that 100% said they would recommend the workshops to others, 100% of children were able to participate in activities, and that 100% would recommend it to others.
Primarily the workshops will offer inner city children attending childcare the opportunity to experience and explore new activities. Many of the workshops involve hands-on activities allowing children to access different materials and resources to play and learn with. In this way they will develop new skills including – practical, cultural, physical, educational & social. At the heart of our work is the establishment of good quality childcare, and a highly-trained workforce is central to this aim. Our commitments to investing in free training in early education and childcare are crucial to achieving this.
---
Please visit our Aviva Community Fund Fundraiser Page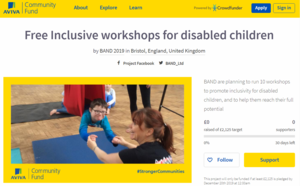 https://acf.crowdfunder.co.uk/inclusive-aerial-workshops-for-disabled-children
---