---
---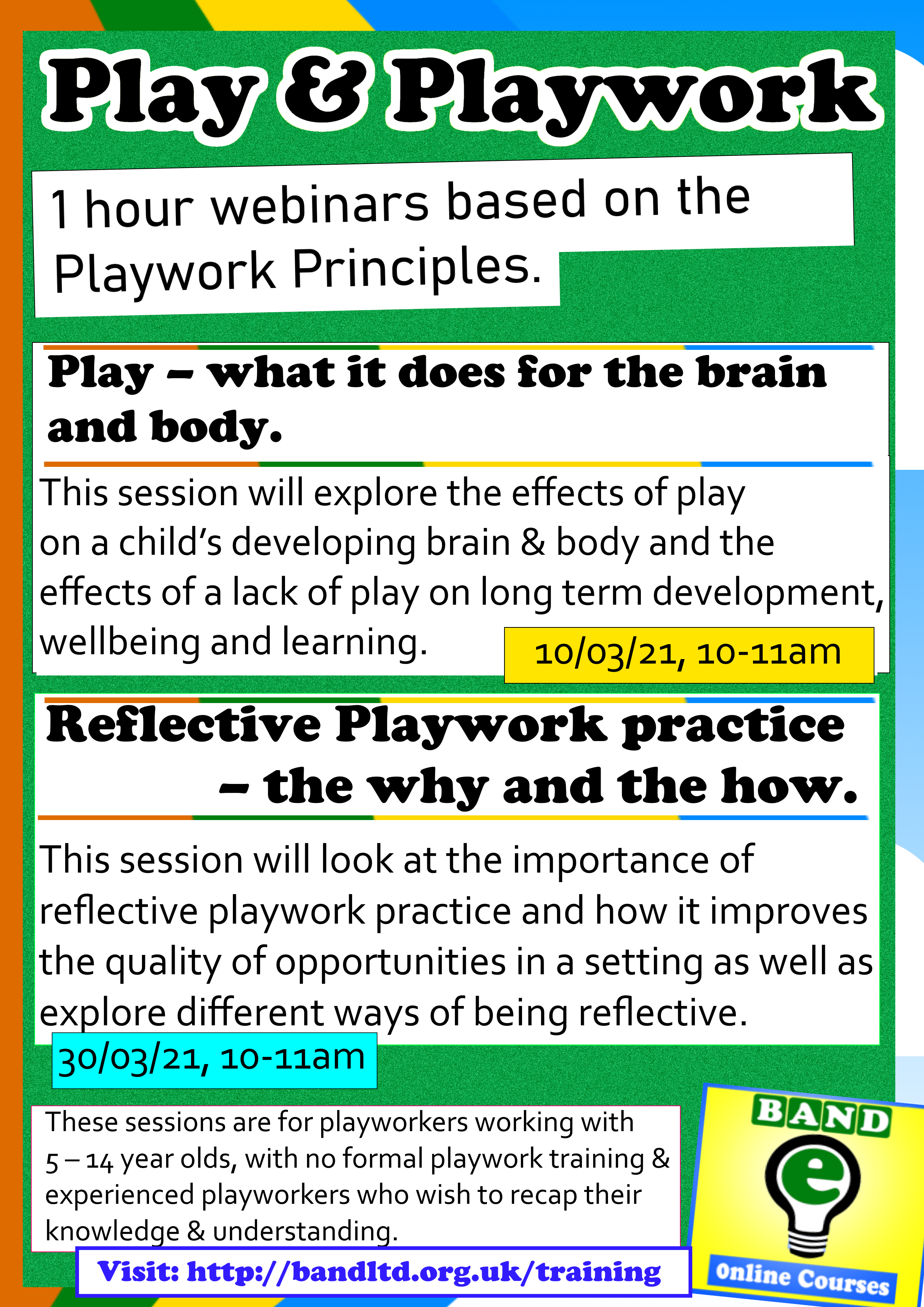 Something new for playworkers: Play and Playwork A series of 1 hour online webinars based on the Playwork Principles.
These sessions are for playworkers working with 5 – 14 year olds, with no formal playwork training and experienced playworkers who wish to recap their knowledge and understanding.
---
Play – what it does for the brain and body. 10th March 10am – 11am
This session will explore the effects of play on a child's developing brain and body, the effects of a lack of play on long term development – wellbeing and learning. This knowledge and understanding underpins good playwork practice and the ability to stand up for children's play when pressured by adult agenda's. This session is underpinned by Playwork Principles 1 & 2.
"Playwork Principle 1: All children and young people need to play. The impulse to play is innate. Play is a biological, psychological and social necessity, and is fundamental to the healthy development and wellbeing of individuals and communities."
"Playwork Principle 2: Play is a process that is freely chosen, personally directed and intrinsically motivated. That is, children and young people determine and control the content and intent of their play, by following their own instincts, ideas and interests, in their own way for their own reasons."
---
Reflective Playwork practice – the why and the how. 30th March 10am – 11am
This session will look at the importance of reflective playwork practice and how it improves the quality of opportunities in a setting as well as explore different ways of being reflective.
This session is underpinned by Playwork Principle 6.
"Playwork Principle 6: The playworkers response to children and young people playing is based on a sound up to date knowledge of the play process, and reflective practice."
---
NOTE: You will need to be a playworker working with 5-14 year olds.
If you wish to book onto these, please send in a booking form
https://bandltd.org.uk/training/training-booking-form to training@bandltd.org.uk
Posted on
---
---
---
---
---
---
---