---
---

11: Make a bug house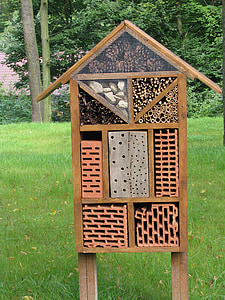 Insects are really important for the environment and some of their natural habitats are threatened. So we can help them by building a bug house. Find a good place for it, shade or dappled sunshine is best, somewhere it can be settled for a while. Get some structural materials: Wooden palettes, bricks, roof tiles, bits of pipe or plastic bottles and make a stable shape (tie it together if you need to ) with a roof on it. Fill the house with different natural materials: Twigs, straw, dry leaves, bark and plant stems – anything natural you find lying around. Have different zones. Wait and see who comes to live there!
Have a look at the Eden project's website for more info : click here!

*Remember: always risk – assess your activities!
Download & print our "40 things for kids to do" Worksheet

Posted on
---
---
---
---
---
---
---