BANDNews back issues: Rates Boost Childcare Equality?
From MAY 2017
Anew report from the Institute for Public Policy Research (IPPR) suggests that the governments' proposal to allow local authorities to retain 100% of their Business Rates could help tackle inequality of access to childcare.
Although the report acknowledges that sufficiency of high-quality, flexible childcare is an issue across the country, it focuses on London which it says faces unique challenges in terms of affordability, inequity and undersupply: there are only 32 childcare places for every 100 children under five.
As a result of these factors, London's maternal employment is the lowest of any region in the UK with 40% of unemployed mothers saying that childcare is a key barrier to getting a job. Low maternal employment is a key driver of child poverty with associated impact on the development, health and wellbeing of children, it also suppresses regional and national economic growth.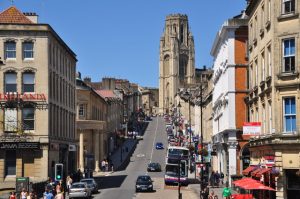 The report claims that £1.43 billion of annual public funding for childcare in London is spent in messy, complex ways and delivers poor value for money. Thethree main forms of funding (in-kind support such as free childcare places, income top-ups such as tax credits, and direct local authority funding such as funding for Sure Start children's centres and free or subsidised nursery schools) are a mix of supply-side and demand-side funding, which is handled by four different government departments before reaching parents and LAs.  IPPR proposes a single supply-side funded grant for childcare providers in London to replace the current complex array of income top-ups, grants and in-kind support.
So could this system work for Bristol and other areas of the country? Key to the whole discussion is whether the 100% Business Rate Retention proposal makes it onto the statute books of the government. It's possible there could be huge winners and losers with such a proposal, since some areas are able to generate far more in Business Rates than others.
While many may see this as a windfall for local authorities in reality replacing much central government funding with their own Business Rates would leave authorities with a huge list of services to directly fund, with childcare trying to fight it's way to the top of that list.
FFi: http://www.ippr.org/publications/the-future-of-childcare-in-london
Read more from BAND News...
BAND newsletter 
This article is taken from BAND News -  our Newsletter which BAND members receive 6 times a year.
To read more BAND news articles like this click here.